Most of our puppy owners and people inquiring about Cavaliers normally all ask what foods we feed.  We feed a dry kibble with added vegetables such as beans, carrots, and other vegetables and some fruits.  Our puppies start off on  our home cooked LynWood 'chicken, rice, sweet potatoes and carrots' recipe that is on our website.  Then we slowly add in puppy kibble so that they are fully onto kibble by 12 weeks with some toppings of carrots.  
There are four of us that all work closely with our breeding and health testing programs.  Interestingly, two feed raw diets and two feed kibble with added vegetables.  
Raw needs to be done correctly or it can be disastrous.  At this time one of our breeders feeds homemade raw and has done so for 15 plus years successfully.  It is a lot of work and she is truly dedicated.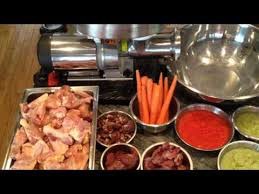 One of my co breeders and several of my friends use Stella and Chewy's Raw and have been very happy with the results.  
There are many benefits to feeding a raw diet for dogs… many dogs thrive on the food with shinier coats, healthier skin and smaller stools.  Dogs that are given bones to chew like chicken necks tend to have less tarter on their teeth.  These breeders also saw less problems when there were commercial dog food recalls such as in the 1990's when a large number of cats and dogs died from pet food ingredients coming from China or in 2007 with the melamine contaminated pet food.  
Problems with raw diets are usually associated not with dogs but with family members or the elderly that are autoimmune suppressed.  I am also very wary of raw diets being served around young children.  
To feed a raw diet, you have to know what you are doing and make sure the diet is properly balanced.  The main drawback of such a diet is that it is a lot more time consuming.  
WET or CANNED DOG FOOD
In my opinion, wet or canned dog food with Cavaliers spells disaster with their teeth!  Please do not feed canned dog food!  It is also not good for their digestion with all the fillers and questionable ingredients. I do not recommend it and do not feed it.  If a dog needs a soft food diet for health issues then I feed my chicken and rice recipe or scrambled eggs and rice - never canned food! 
DRY DOG FOOD
  One of the best places to find information about the dog food industry is DogFood Advisor.com  Rather than me telling you about all the horror stories, false advertising, unregulated industry gimmicks and TV personality endorsements… please just go to this site and read for yourself.  
   Novels could be written on how ALL dog foods claim to be premium, all natural and the best. Yet brands like Hills Science Diet, Nutro, Royal Canin, Purina Pro Plan, and Eukanuba never make the top 5 star quality list because of their horrible ingredients.  I am also appalled that Royal Canin food for Reproduction and Lactating bitches has no meat! 
The One Star (being the worst) list reads like the Who's Who of dog food from Purina Puppy Chow, Pedigree Dog Food, Alpo, and most of the Hills Science Diet formulas.   Then there are companies that start off great and then when we all start using it, they change their ingredients or are bought out by another company that lowers the standards.    
   One of the worst recently was Blue Buffalo that was charged with false label claims and outsourced food… really!  That means that the ingredients were coming from unknown sources - the worst being BENEFUL that is now being taken off of store shelves!  There have been huge law suits and many, many sick dogs!  
DOG FOOD ADVISOR  "After reviewing all 2,223 formulas, we ended up with 134 dog food formulas manufactured by 29 brands that can be confidently recommended."  
For 2015 this is a list of 5 that I know have done well with Cavaliers and would recommend or use. 
ORIJIN
ACANA
EARTHBORN HOLISTIC 
TASTE OF THE WILD 
WHAT WE FEED 
We start our babies off with our home cooked LynWood Chicken and Rice recipe.  We then add in Puppy - Taste of the Wild.  I know it is 4.5 of the 5 star list across the board because it is owned by Diamond Dog Foods that had some recalls.  However, Taste of the Wild is a subsidiary and manufactured in a different location and under different management.  I continue to monitor and will change if I see any changes in ingredients or ratings. 
If I had a favorite it would be FROMM's.  They are a family run company, that manufactures their food in Wisconsin and do daily testing.  They have never had a recall. They also have a free bag program - when you present 10 proof of purchases clipped from the bag you get a free bag of food.   
We just happen to be very close to a feed and grain store that carries Taste of the Wild and we find that our younger kids do very well on the Buffalo and Salmon flavors.  I like the also Omega fats that are in the salmon.   
                                               A typical Dinner at LynWood